STOCK & CUSTOM ORDERED PLAQUES
(Click on any photo below to enlarge it)
---
In the 1950's, many hot rod and custom car magazines ran ads for companies that made or sold car club plaques. Some foundries had stock designs with club names that could be chosen to start a club. Many clubs were formed using these "stock" names and plaques were ordered for these new clubs across the country. The plaques shown below were pictured in the ads and are listed under their known sellers. Some of the ads also mention the custom plaques companies could design and make for clubs.
---
CLUB PLAQUES - IN COLOR
This ad for Stylized Emblem Co. appeared in the October, 1954 issue of Rod & Custom magazine. The ad states "Style plaques are made of heavy weight cold rolled steel, and are GUARANTEED not to CHIP, BREAK, BEND or DISCOLOR. Five examples were shown for the Pacers (Pasadena), Tee-Totalers (Salt Lake), Flippers (Miami), Drillers (Milwaukee) and Turtles (L.A.).
When this ad appeared, Stylized Emblem was on No. Western Ave. in Los Angeles. They would later move to Hollywood and go on to become a major supplier of cast aluminum plaques. Their Catalog No. 29 with cast plaque examples is shown farther below on this page.

---
After I saw the ad above, I wondered if this ad for "CUSTOM CLUB PLATES" that was in the September, 1956 issue of Hot Rod magazine, was talking about the cold rolled steel plaques that Stylized advertised. The ad says "These are heavy, quality plates - not funny paper cartoons on tin." and the plaques (plates) could be ordered through Shell Speed Shop in Los Angeles, CA. They also offered "Free Data" about how to form a car club in the ad. The ad had photos of four plaques for the Jesters (Van Nuys), Saints (Westchester), Headers (Venice) and Rod Knockers (Culver City). It's unknown which foundry Shell used for the cast plaques they were selling.
Grant Smith, a plaque collector and contributor to this site, spotted a plaque for sale on eBay in January of 2023 and sent a photo of the back side. It was rubber stamped with Shell Speed and Muffler Shop with the same Wilshire Blvd. address that was in the ad. Because the larger foundries making plaques in the 50's and 60's marked the plaques they made, I'm guessing that this plaque was made by a different foundry. The plaque was for the Rod Knockers in Berwyn, IL.
---
In the February, 1958 issue of Custom Rodder, an ad for J. C. Whitney & Co. in Chicago, IL advertised 10 plaques as "NIGHT-GLO LUMINOUS CAR PLAQUES". These plaques, with glow-in-the-dark paint, were priced at $3.98 each. These same plaques could also be ordered without the "night-glo" coating.
At least one of the above plaques was also made in two different styles,
with and without the horizontal lines as shown below.
Whitney also advertised a "Plaque Mounting Kit" for $1.00 Postpaid, and the ad stated "Makes the mounting of plaques a quick and easy job. Two lengths of rust-resistant chain & 4 chrome plated hooks can be adjusted to any length by raising or lowering hooks." This kit was used to hang the plaque under the rear bumper. In some areas, plaques were called drag plates because they often drug on the ground if the car was lowered.
---
The following plaque wrappers are from the Gem Manufacturing Company in Chicago, IL and are for the Hot Sparks, Night Prowlers, Pace Makers, Red Devils, Rod Aces and Rod Benders plaques. Note that the Pace Makers, Rod Aces and Rod Benders plaques were also being sold by the J. C. Whitney Company and that the some of the wrappers have pictures of the same plaques that were featured in Whitney's ad.
Here's another example of a Gem wrapper for the Rod Aces (#612) with "Silver Trim". The unusual thing about this wrapper is that in addition to Gem's 612 number, it has what looks like a stock number 20323 for Sears. Could these have also been sold through the Sears Roebuck catalog?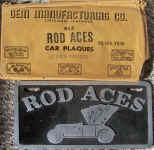 ---
These plaques were shown in a J. C. Whitney ad in the August, 1958 issue of Hot Rod magazine and the heading said "SIX BRAND NEW CAR PLAQUES". The price for these plaques in 1958 was $2.98 each.
Some of the plaques being sold by J. C. Whitney had this foundry mark on the back side .....

---
A later ad by J. C. Whitney, in both the June, 1959 issue of Hot Rod magazine and the June, 1959 issue of Rod & Custom, was advertising CAR PLAQUES and Matching Jacket Emblems with a "Choice of 10 New and Different Designs". The ad went on to say "If you are proud of your club, here are club plaques and jacket emblems that will reflect your pride. Dress up your car - dress up your jacket with these new plaques and emblems. Beautiful shield design makes these car plaques and jacket emblems real stand-outs." The price for one of these 5-3/8" x 9-3/4" plaques was $4.95 each. Felt Emblems were $1.50 each while Silk Emblems were $1.98 each. In other ads, some companies were calling this shape of plaque their Royal Lancer line.


The Whitney ad in the Hot Rod issue also had some other plaques shown under the heading "SIX BRAND NEW CAR PLAQUES" but actually had the 10 plaques shown below. The price for these 5"x 9" plaques was $2.29 each compared to $4.95 for the above plaques. These same plaques, advertised in their August 58 ad, had dropped from $2.98 each.

Some larger companies selling plaques in the 50's and 60's were Chicago Metal Craft, in Port Chicago, CA, Speed Gems in Minneapolis, MN and Stylized Emblem in Hollywood, CA. The plaques being sold by Stylized Emblem were manufactured by the Koehler Foundry in Bell, CA. Here are some examples of the marks these foundries used to identify their products.

Chicago Metal Craft also used this mark at one time.

There were also smaller foundries that made plaques for local clubs. Some of those also marked the back of the plaque to identify where they were cast.

Speed Gems furnished these plaques to auto parts stores and speed shops to promote the sale of car club plaques. They would be mounted in plain view to a wall behind the counter to let customers know that custom made plaques could be ordered from them.
Here are some other examples of reminders that were in plain sight on the wall behind the counter
This is a vintage photo of a wall in Vic Hubbard's Speed Shop. It was used to display many Northern California club plaques that were probably ordered from this business. This was a good way to convince new clubs being formed that they too should have plaques made for their members.

Fast forward about 50 years and these photos show the same business with plaques arranged in the name of the business.



Stylized Emblem Company had a catalog for their products. This one, titled "Catalog 29", sold for 25 cents and had pictures of many products they had produced or sold through their store on No. Wilton Place in Hollywood, CA.
One page, titled "Club Plaques of Cast Aluminum" showed 66 different custom designed club plaques.

This page pictured their New Royal Lancer line of plaques, which are the plaques advertised by J. C. Whitney in their June, 1959 ad (shown above).
The page showing their "Stock Plaques of Cast Aluminum" had pictures of plaques for Aces, Angels, Devils, Knights, Stockers and Wolves.
Stylized Emblem also placed ads in car magazines. This ad on the left appeared in the November, 1957 issue of Hot Rod magazine and stated they sold the "FINEST CLUB PLAQUES IN THE NATION". No prices for plaques were mentioned in the ad. The Hot Heads (Culver City) plaque was pictured.
This decal for the National Hot Rod Association is an example of some of the other things Stylized was selling.



This small ad for Chicago Metalcraft (Metal Craft), on the left, appeared in the August, 1958 issue of Hot Rod magazine and advertised that their 5"x 8" plaques were selling for $2.00 each. There was no pattern charge if you ordered 10 or more plaques. They also offered a 5"x 9-1/2" plaque for $2.25 each in the ad. The plaque shown in this ad is for the Exterminators (So. Cal.).
In 1966 they were still running ads in magazines like Hot Rod and this one said "We are still the world's largest manufacturer of the real cast aluminum car club plaque, featuring your custom design at reasonable prices". It goes on to say "Over 120,000 satisfied customers" and the ad had their mailing address if you wanted to send for "Free Literature".


Other Speed Shops, that had printed catalogs, would often have information about ordering club plaques from them. The following is an example of this type of ad and all 10 of the plaques shown are pictured on this site. Notice that the price was $2.97 each..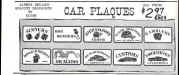 The Sparkomatic Corporation in Milford, PA printed a Wholesale Automotive Catalog. In Catalog No. 135 there is a page showing 12 different plaques that were also being sold by other companies. The description in their "Club Corner" says "New Deluxe Plaques are heavy cast aluminum with ground RAISED letters and designs. Colorful "leatherette" baked-on enamel background. Rustproof. Approx 5" x 9". Shpg wt 1 lb." and the price was $1.89 Each.

Dave Burns placed this ad in an unknown publication. He was located in Huntington Park, CA and the ad had images of the Jokers (Burbank), Krawlers (Huntington Beach), Accelerators (Los Angeles), Sidewinders (Glendale) and Cam Twirlers (Pomona Valley) plaques that were available in three sizes.



Here is a package of Speed Gems' SG 100 Universal Car & Club Plaque Hanger Set which sold for "Only $1.95 Pair". The package has instructions on how the hangers could be mounted and a picture of the "Have Goodies - Will Travel" plaque that was advertised in a J. C. Whitney ad (shown above).
---
George Barris, a well known custom car builder in the 50's, was located in Lynwood, CA. On the back of a price list he had printed, there was an ad and application to join his Kustoms of America. For $2.00 per year you could become a member and get a decal and membership card, and have the option to purchase items like Club Emblems, Jackets, T-Shirts & Plaques. Your membership would also provide opportunities for discounts on various auto parts.

---
O'Brien Truckers in Charlton, MA has made thousands of plaques for thousands of clubs.
They have a large number of original patterns from the 50's and 60's that they can duplicate. They also have the ability to make a custom designed plaque for your new club.

Their website is www.obrientruckers.com and you can reach Dennis O'Brien at (508) 248-1555.
If your club is in the Northwest and looking for a source that makes traditional type car club plaques, check with Creative Casting in Tacoma, WA. Their website is www.creativecastingco.com and they have made many of the plaques pictured on this site. Their phone number is (253) 475-2643.
Achinback Foundry provided pictures of some of the plaques they have made for Canadian clubs. They are located in Victoria, BC and their website is www.achinbackfoundry.com. You can contact Jim Betts at (250) 474-0037 or (877) 474-0037 for additional information about their services.
---