Arcadia
Dick Sappington -
To the best of my knowledge, this chapter was in operation from sometime in '63 through sometime in '69. Edwin (Goldie) Goldsberry was our local police rep and we met at the Elks Lodge on Colorado Blvd across from the Park on Santa Anita Ave. We mostly hung out at both the Bob's Big Boys in Pasadena, and occasionally at Henry's by the horse track (killer wet fries). Other members I can recall were Lenny Ardagna, Dave Duffy, Allan Lennaberg, Dick Miller, Skip McConnel, Bob Petry, Tom Petry, Andy Seidner, and a guy named Johnson. We just called him Johnson and I don't recall his first name. Dick Miller's sister, Sue, was among the girl's aux and Art Carr was an honorary member.
Tom Petry and I were drafted in '66, and didn't really get back into it when we got out in '68, so there are a few years at the end that we're rather sketchy on. When I got back, my brother had sold off everything I had except my club jacket, plaque and one of my pool cues, and the jacket & plaque were later lost during a move.

I'm a ceramic pattern/mold maker and a
few years ago I borrowed Tom's plaque to make a pattern for the above plaque. It has an added feather at the top of the wings, as well as So Cal at the bottom as

clear differentiations from the original since this club and my chapter are long gone.

I gave Tom one

and I fly these on my street & race cars strictly in commemoration.
Bob McIntosh - I was a member from 1965 until the chapter folded in 1968.
Burbank
Bob Foster - I joined the Hollywood chapter in 1966. We held our meetings at LeCount Junior HS for about a year before Hal Hild informed us we had to procure a sponsor to remain an active chapter. Most of our members lived in the Valley at the time so we looked for a sponsor there. We met Wayne Jones, owner of Burbank Chrysler Plymouth and brother-in-law of Cal Worthington, and he became our sponsor. The chapter name was changed to Burbank and we met at the dealership. We were allowed to use the work bays on occasion and had access to his mechanics. Some of our members were Bob Briggs, Don Collins, Chuck Dames, John Dean, Craig Esterridge, Rick Gulbranson, Keith Kelsey, Chuck Mason, Bill Paar and Eric (Vibertonsils). Our members hung out at Bob's Big Boy in Glendale, Van Nuys and Toluca Lake, as well as Van De Camps in Glendale and Mel's in Hollywood. Our favorite streets to cruise were Hollywood and Sunset Boulevards and Van Nuys Boulevard in the Valley.
The T-Timers held a Presidents and Vice-presidents meeting during the winter of 65-66 in Big Bear Lake, with Hal and the governing board, and we stayed at Elk's Lodge in Big Bear.
Covina
Gary McAdam - I was a member of the Covina, CA chapter in the late 50's - 60's. We had joint poker runs with other T-Timer chapters in the area.
Culver City
Don Harris - I was a member of the T-Timers in Culver City before our chapter was merged with the Venice and Westchester chapters, and renamed the Marina chapter.
Fullerton
Roy Simmons - There was also a Fullerton chapter of the club back in the 50's and early 60's. My father, "Judy" Simmons, was vice-president of the club for a few years. He was good friends with Hal Hild.
Mike Thompson -
I belonged to the T-Timers, Fullerton chapter, in my senior year of high school. I recall that we had about 20 members with a Fullerton cop as our sponsor. Our cars included a 48 Ford ragtop (mine), a 48 Plymouth coupe, a Chevy powered 40 Ford coupe, a 56 Chevy Delray (283 4 speed), a 58 Impala (348 tri-power 3 speed), a 41 Ford coupe, a 53 Bel Air hardtop (283 4 speed), a 57 Olds 88 hardtop (J-2) and a 52 Ford coupe with a Cad engine, among others. Insurance was the big expense and we had a deal for club members with 20th Century insurance (which was a lot of why I joined). We raced at the old Santa Ana Airport on Sundays, and on the street as well whenever the opportunity arose. Friday and Saturday nights, we either went to Hillside in Fullerton, Bob's in Whittier or Harvey's in Downey.
Marc Minnis - I was the president of the Fullerton, CA T-Timers car club, as a senior in high school in 1963-64.
Highland Park
Tom Allen - I was a member of the Highland Park "T-Timers" in 1963/64 and our rival club was the "Protesters".
Charlie Lapham - I was president of the Highland Park T Timers in the 60's. I still have the gavel and my club jacket and plaque. I also have a large "T Timer" banner that a lady made for us because we helped her get her car running when she was stuck on the side of the road one night.
Inglewood
Danny Velderrain - I was a member (see his membership card below). A couple of other members I remember were Steve Jenkins and Ray Lawson.
Richard Hanson - Richard's widow wrote to say that she had his plaque on display at his funeral. He belonged to the Inglewood T-Timers in the early 60's and was the president at one time. Some of his fellow members were Bill Biscoe, Bill (Willie) Young and Danny Judd.
Madera
Al Donnelly sent a link to an article published in the 02/17/58 issue of the Madera Tribune. It was titled "Teen Safety Club Slated" and it read .....
A Madera branch of the T-Timers Club, whose main object is to promote highway safety will be organized at a meeting Wednesday evening at 7:30 in the Elks Club. Frank Reilly, exalted ruler of the Elks Lodge, has announced that boys over 15, who have drivers licenses are qualified to join this Hot Rod Club, said to be the world's largest, with branches in 46 cities and a membership of 1,600. According to Les Milligan, chairman of the organizing group, one of the special benefits of this organization will be that all qualifying members with good driving records will be able to get insurance for their automobiles at 30% less than bureau rates. He stated that in view of the high insurance rates he felt that this would be of special interest to the parents of teenage boy drivers. Hal J. Hild, chief field executive of the T-Timers, will be the speaker for the Wednesday night meeting. He will explain the aims and purposes of the organization.
Marina
Don Harris - I was a member of the Marina chapter. Tim O' Neal was President and I was Vice-President. During the 1967-1969 period, we only had 10 members in our chapter, mainly due to the Vietnam war. In the beginning we were meeting at the club's headquarters on Redwood Ave in Venice. Later the meetings were moved to the Ford dealership in Culver City. I have great memories of my time in the T-Timers.
Menlo Park
John Kunkel - My 76 year old neighbor, Earl Pampayan, was in the T-Timers of Menlo Park in the Northern California Bay Area. He still has his plaque but the background is painted orange.
Paramount
Larry Messick - I was in the Bellflower chapter before the Paramount chapter was formed. I transferred my membership because it was closer to my home in Lakewood. Our chapter had club outings and we would take our cars to Irwindale Raceway and race the 1/4 mile. I remember my '47 Ford turned 64 miles per hour .... WOW! When I turned 18, my dad bought me a beautiful '40 Ford Deluxe coupe for my birthday. I was still in the T-Timers in Paramount, but a friend of mine (Lynn Graham) had a sister who was dating Gary Thornton, the President of the Cut Outs car club in Long Beach. While visiting Lynn one day, Gary invited me to a meeting of his club. The Cut Outs were more of a car show kind of club, rather than drag racers. I left the T-Timers and became a member of the Cut Outs when I was a freshman at Long Beach City College.
Pasadena
Bobby Hubbard - My dad, Bob Hubbard, and his friends, Doug Happ and Don Kremers, were members of the Pasadena chapter. My dad was a hot rodding nut and over the years I heard many great stories from those days!
Don Herman - Our chapter met at Perlly's Muffler Shop on the corner of Colorado Blvd & Madre St in East Pasadena. I could not afford a T Timers jacket, but did have a plaque. I left that club shortly thereafter, as a bunch of us formed the "Midniters Car Club" in Pasadena,
Pomona
Marcel "Pete" Anderson - I was a T-Timer in Pomona, CA in 1958. The T-Timers were largely sponsored by a social club, I think it was called the Elks. We met at the Elks Club and played pool there before our meetings.
Redding
Pat Sandbloom
- I was a member of the Tujunga chapter before I moved to Redding in 1965. Several Tujunga members moved with me and we started the Redding branch of the club in 1967.
Sacramento
John Leymaster - I was once a T-Timer in Sacramento, or possibly the suburb of Carmichael, many years ago. I believe the only other chapters anywhere near there were in Modesto and somewhere in the San Francisco Bay area.
Santa Ana
Pete Peterson - I was a member of the T-Timers in Tustin, CA in 1953-1956. I believe it was listed as a Santa Ana club, due to the Santa Ana CHP being the sponsor. Our coordinator was motor officer
Chuck Pollard.
Most of the members went to Tustin HS but some had graduated. We had poker runs and car shows and some cars in the club were customs and some were stock.
Santa Monica
Russ Aves - I was a member of the Santa Monica chapter. I remember casting some plaques in our University HS shop. Other area clubs were the Coilers of West LA, the Clockers from Culver City and the Road Romers of Poker City (Gardena?) near by. I still have my first high school car, a 1932 Ford 3 Window Coupe.
Dale Hebert - I belonged to the Santa Monica Chapter in the late 1950's and spent a lot of after school time at "The Shed". My memory was that most of the so-called headquarters was an open shop area where the members could work on their cars. I'm sure some knew what they were doing while others, like me, couldn't get much past changing spark plugs. The reality was that whatever we were doing at the shop was a lot better than what we might have been doing otherwise, which was pretty much Hal's overall goal for the club itself.
Gary Bricken - I was also a member of the Santa Monica club from 1959 to 1963. We had a few wannabe hot rodders, and few real hot rods compared to some of the other clubs. Hal's vision was for a club that had police oversight or adult supervision so that the members could learn how to do things right, and that's a tribute of its own to Hal. This was a car club; anybody could join if they followed the rules and the rules included not having your plaque on chains below the rear bumper. It taught us how to stay out of trouble, rather than get into trouble. And getting in trouble with the law didn't earn you any status in the T Timers. Very few of us had jackets in those days. About the only thing I ever saw with our logo were our plaques. Being a T Timer for me was a lifetime experience.
Tom Allen - I was a member of the Santa Monica T-Timers in 1961 & 1962 and still have my plaque hanging in my man cave. I remember all the help I got keeping my 53 Ford running and all the poker runs we had – great fun. I also remember the one gallon red gas cans you had to put in your rear window say things like "I got a ticket for speeding".
John Sporleder
- I remember walking into Hal Hild's office one Saturday and he said that I had to go to a Safe Driving contest at the local Sears parking lot to represent our T-Timer's chapter. I did and got there just in time to enter. I won and, along with the winners of other Southern California contests, received a week long trip to the 1958 Indianapolis 500. We attended the pre race meeting, toured the pits, watched the race and attend the winner's dinner the next day. All thanks to Hal Hild. My friend, Ron Koontz, was also a member of Santa Monica chapter.
South Bay
Jerry White was a member of the South Bay chapter that included Southern California beach cities like Redondo Beach, Hermosa Beach and Manhattan Beach. Their club project was a jalopy that they raced at Gardena Stadium and Carrell Speedway. Jerry provided this photo of their race car.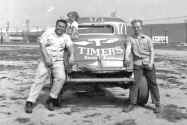 Torrance
Jerry Vandenberg - Our chapter met at Pat's Brake & Wheel on Hawthorne Blvd. We had a 34 Ford coupe that we raced at Santa Ana, Wilmington and a few other drag strips in So. Calif.
Tujunga
Pat Sandbloom
- The Tujunga chapter was started in December of 1963 and was sponsored by Welman Ford in Tujunga. The members were from Sunland, Tujunga, La Crescenta, and La Canada. I was elected vice president of the club when it started, and later president. Some of the Tujunga members were Steve Hillard, Mel Dorrow and Mike & Bob Hepburn.
West Hollywood
Ron Gilbert - There was a T-Timers chapter at Fairfax High in West Hollywood in the late 50's to mid 60's. I was a member and still have some old club brothers I talk to. I went to work for Carroll Shelby in 1966 and became a member of the LA Roadsters in 1970.
Whittier
Dan Mudra - I was one of about 12 members in the Whittier chapter in the mid 60's. We met at an Edsel dealership on Whittier Blvd that later became a Nash/Rambler dealer. We did poker runs, cruised Whittier Blvd and hung out at Bob's Big Boy.