ROAD RUNNERS
ROAD-RUNNERS
ROADRUNNERS
Click on any picture below to get a larger view
---
When this photo of the Chaparrals plaque (below) was sent to me by Bob Dahl, I wondered what a chaparral was since the graphic looks a lot like some of the plaques above. A search on the Internet found that "The chaparral bird, or roadrunner, was adopted as the official state bird of New Mexico on March 16, 1949."

Some additional plaques on this site with roadrunner graphics have spelled chaparral different ways. The club from OK spelled it Chaparels (missing one R and an E instead of an A) and the club from NM spelled it Chapparals (with an extra P and a missing one R).
This club in Harrison, AR spelled it with an E.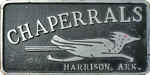 Although these plaques don't have a graphic, I think Chaparrals was misspelled.
---