HOW IT STARTED .....
or
HOW IT MAY HAVE STARTED .....

(Click on any picture below to enlarge it)
---
Back in the 1930's, there were several clubs racing for top speed on the dry lakes of the Southern California deserts. One club had an idea to paint their club's name on a license plate sized piece of metal to display on their club's cars and other clubs soon followed. This was a great way to advertise the club they belonged to and here are some early examples.
With these types of plates now seen running around town, it wasn't long until other car clubs saw them and though it was a good idea to let everyone know which club they belonged to. Some clubs had their name painted on a license plate sized piece of metal by a member or a local sign painter while others use various material, like the fiberboard used by the Dallas, TX Ramblers. Some of the examples below are known to be for clubs formed in the early 40's.
It's unknown exactly when the first aluminum car club plaque was cast, or which club made it. Because the sand casting process is fairly simple, a lot of high schools in those years had facilities on campus to cast small parts from aluminum. Some contributors to this site have mentioned that their club did cast the club's plaques in High School Metal Shop classes, so it's possible that the first plaque was cast in school.
Some clubs started with the painted plates then had aluminum plaques cast, like the clubs above. Perhaps they saw another club with cast plaques and had some made for their members.
Dylan Korte wrote and sent a photo of the "plaque" his grandpa's club had made around 1959. Instead of having cast aluminum plaques made, the Esquires from Whittier, CA had these ceramic/porcelain 5-1/2" x 4" tiles made because they looked "high class", and they were displayed in the rear windows of their member's cars.

Some car clubs had "Toppers" cast for their clubs that could be attached above or below the license plate. On early 30's and 40's cars and trucks, the license plate was often attached to the tail light with a bracket. Here are a couple of examples that clubs in New Zealand had made for their members.
Both of these clubs also have traditional plaques for members and they can choose which one they want.

When Dan Waite sent the photo of his dad's Ravens plaque he said "My Dad and his friends were involved in this Burbank, CA club in the early 50's. He doesn't remember much about it except that they didn't have a lot of money for fancy cast plaques like the big clubs, so they made their own." His dad, Bob Waite, had this plaque hanging from the rear bumper of his 40 Ford in the 50's and it's now hanging in Dan's garage.

The member belonging to this Wilmington, OH club made his own plaque by buying some letters from the hardware store and nailing them onto a piece of wood. I wonder if everyone in the Saints had one like this or if they ever had cast plaques made for their club. This could have been used as a pattern .....
PLAQUE PATTERNS
The first step in producing a cast plaque is creating the pattern. Many early clubs made their pattern by carving the design and letters in wood. The King Pins plaque below was cast using a wood pattern. The original Relics & Rods plaque was a high school metal and wood shop project. Club member Ron Crone was the metal shop teacher and he gave a drawing to the wood shop teacher who had his students make a pattern with Masonite. The metal shop then cast the plaques, using melted beer and soda cans.

Patterns were also made from plastic, linoleum and metal, but any hard material could be used. Speed Gems made plaques for J.C. Whitney, and other mail order houses, and all
of their 4,100 patterns were carved out of linoleum. All of the 8,000 Chicago Metal Craft patterns, as well as those made by Koehler Foundry, were made using a blank plaque and gluing on pot metal foundry letters and a hand carved linoleum "graphic". More information about these companies can be found on our Stock Plaques page. Some smaller foundries used a piece of wood or Masonite and added a frame to it. They could then attach letters made especially for foundries, some with prongs on the back, and a graphic made from wood or clay. Many of the early patterns had a textured pig-skin like background.

Nes Synadinos, who provided the photo of his Millwinders plaque above, wrote about how much time it took in the early 50's to cut out and mount all the letters on their wood pattern. When they took it to a local foundry to have their plaques made, they discovered that the pattern needed to have some "draft" in the design so it could be pulled easily from the sand. Draft is an angle from the face of the letters, graphic and border to the base or background of the pattern, and they must be narrower at the face than at the base. Nes had to disassemble it and he spent the next week sanding an angle on each letter and the border, so the pattern could be used for their plaques.
Jim Lindsay sent the following photos showing the wooden pattern, that had glued on foundry letters, and a cast plaque for the Hylifters, a North West Timing Association club out of Corvallis, OR.
Current metal patterns, like most of the 3,000 made by O'Brien Truckers, are made using a chemical engraving process that allows much greater detail than what was available 50 years ago. This process requires "camera ready" black & white artwork that is used to acid etch the design into a flat piece of magnesium. Patterns are made slightly larger than the finished design to allow for shrinkage as the aluminum solidifies.

When an existing plaque is used as a pattern, the copy will be slightly smaller than the plaque and some details will be degraded.
PLACING AN ORDER FOR PLAQUES
To place an order for custom made plaques in the 50's, the club would first have to come up with a drawing that would be used to make a pattern. There were many options available that included the final size and the type of lettering on the plaque. Some clubs would add a unique number on each plaque that would usually be the member's number.
Deric English sent two photos of plaques for clubs that were located in the small Mojave Desert town of Boron in California. The Mads had purchased 20 plaques from Chicago Metal Craft but had more members join and needed to order more plaques. The typewritten letter below was sent to CMC by La Verne Hall in July of 1962 asking for 10 more plaques to be shipped COD. The note on the returned letter said "We must have 1/3 deposit".
Deric wrote "I remember as a kid, my dad taking me to the club's garage where all the guys worked on their dragster or cars. Sometimes it was the garages of club members, at least the ones where the wives were tolerant of a bunch of guys working on cars and drinking beer. I was able to acquire the club photo album and extra plaques a few years ago. I also have my dad's plaque and his jacket emblem." He also commented about the letter saying "The re-order has a rough sketch of the order sent to Chicago Metal Craft and I was often puzzled that Mad magazine never approached the club about copyright infringement, or that the plaque manufacturing company went ahead and made the plaques." Note that the graphic on the Mads plaque looks like Alfred E. Neuman, the fictional mascot of Mad Magazine. Deric went on to say "
Most of the club members worked at our local mine, and made working class wages. Their cars and the club's dragster were put together with hard work, mechanical talent, ingenuity and whatever they could find. I remember my dad telling me they once used old metal bed posts for headers/exhaust. I think they had a beer keg for a gas tank on their dragster.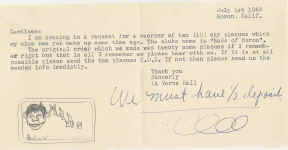 CASTING
To start the process, the sand casting mold is filled with "green" sand, usually made with silica, clay and water

or with "black" sand that uses oil as a binder and gives better detail as used by O'Brien Truckers.

When the liquid (water or oil) is added, it develops the bonding characteristics of the clay that binds the sand grains together.

T

he sand is compressed in two open boxes called a cope and a drag. The pattern is mounted on a board between the cope and the drag and the sand is shoveled in and compressed on both sides. When the board and pattern is removed it leaves a cavity and a system of runners, gates and feeders into which the molten metal will be poured. Most plaques were cast with aluminum but some clubs chose brass or bronze, for the rich gold color, or if their plaques were going to be chrome plated (although aluminum plaques can be chrome plated by some platers). Once the metal to be used for casting is melted, it's ladled or poured into the cavity and allowed to solidify.

Some foundries would stamp the back of the plaques with their company's name to show where it was made, while others cast their name into the back side. Original plaques with known foundry marks from the 50's can be quite valuable today.

FINISHING
Most clubs ordered their plaques in an "as-cast" condition and the members would finish and paint the plaques. The common practice was to sand and polish the high points of the plaque and paint the background. Some clubs had standard colors that the plaque had to be painted while others allowed members to paint the plaque to match the color of their car. Some clubs left their plaques unfinished or just painted the surface and/or background.
LOWRIDER PLAQUES
Somewhere along the time-line, in an area east of Los Angeles, CA around Downey, one unknown club had an idea to put their club name on top of the plaque instead of inside the border. Other clubs from that general area copied the design and there are several examples on the Bellflower, Downey and Maywood pages.
In the late 60's, Koehler Foundry in Bell, CA cast the plaques shown below and the club name was now the major part of the plaque. The Artistics plaque was cast in 1968 for an early lowrider custom car club in Paramount, CA and it's believed by it's owner to be the first plaque of it's kind. These plaques were cast in bronze or brass.
As other lowrider clubs were being formed in the Los Angeles area, these types of plaques became somewhat of the standard design for these clubs.
Koehler also cast these plaques in aluminum for the Informal Gents from South LA, and the Jades from Pomona, CA.
The following plaques for the Cali Grown, Kingsmen, Solitos and Villens are examples of lowrider plaques that had mounting straps cast as part of the plaque or attached to the plaque.

These types of plaques were what most clubs were flying in their back windows as the lowrider clubs became more popular. As time progressed, they became more ornate. The latest trend with these clubs are plaques that are laser cut from a solid sheet, instead of being cast. They may be engraved on the face and be chrome or gold plated. The focus of this website is on the older and traditional type sand cast plaques. There are numerous sites on the Internet where lowrider plaques are shown and, except for the examples above, they will not be featured on this website.
RETURN TO THE PAST
The latest trend with some new clubs is a return to the past. They build cars that look like they may have been built in the 40's or 50's, and their members dress like they did in those eras. Some of these "Traditional Hot Rod" clubs have created their own style of plaques. Some have been flame cut, some have had engine parts attached to a plain piece of steel with the club name painted on and some have the club name added with a welder. As we get more of these hand made plaques, they will be posted here.

---